Murfee Chair
Kathryn and Latimer Murfee Chair
T. Michael Nork, MD, MS
Professor
Ophthalmology and Visual Sciences
University of Wisconsin
Madison, WI
Dr. Nork's Research Project
Research focuses on the mechanisms by which various ocular diseases affect the outer retina (especially the rods and cones) and how injury to the outer retina might, in turn, affect disease pathogenesis. Dr. Nork and his colleagues have found selective blue cone loss in retinal detachment and diabetic retinopathy. They are currently investigating the possibility that the retinal cones may also be injured in glaucoma — a disease that is not traditionally associated with the outer retina.
(7/1/2012 – 6/30/2016)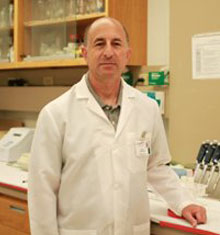 Arthur S. Polans, PhD
Professor
Ophthalmology and Visual Sciences
University of Wisconsin
Madison, WI
Dr. Polans' Research Project
Studies of the Resveratrol-stimulated Calcium Response in Endothelial Cells  
Current Research Interests
Dr. Polans' long term research goal is to develop safe and effective anti-angiogenic agents based on his studies of non-toxic natural products and to apply these agents initially to the prevention and/or treatment of exudative age-related macular degeneration. Dr. Polans has delineated the mechanisms by which certain non-toxic natural products inhibit activated endothelial cells from forming abnormal blood vessels in an animal model of choroidal neovascularization. Both in vitro and pre-clinical studies have now been completed. He also has finished synthesizing improved analogs that are safe and is currently testing them for efficacy in animal models of ocular neovascularization.
Dr. Polans' laboratory was first to discover that a series of related, non-toxic natural products rapidly activate calcium signals in endothelial cells and cancer cells. They then showed that more toxic natural products as well as synthesized compounds used to treat neovascular diseases and various types of cancer do not elicit the same calcium signals. They also determined that these calcium events do not occur in "normal" cells rather they are more selective for pathological conditions. Blockage of these calcium signals mitigates their anti-angiogenic and anti-cancer activities.
Dr. Polans then demonstrated that normal metabolism leads to biochemical modifications that hinder the uptake of these natural products into cells and thereby renders them ineffectual. Based on these observations, he believes that calcium signals can be manipulated in a safe manner to inhibit the unwanted growth of cells associated with neovascular diseases and cancer, and that non-toxic natural products are unique probes to explore the calcium pathway.
As a result of these studies, his laboratory has now modified these natural products to produce compounds that instigate larger calcium signals. They are also more water soluble and therefore can be delivered intravenously as well as orally, and they access both chambers of the eye at therapeutic levels. ERGs demonstrate that they do not interfere with normal retinal function.
Current collaboration with Dan Albert, MD, MS (Founding Humble Distinguished Director, UW Eye Research Institute) and Nader Sheibani, PhD (UW-RRF Chair) will determine their delivery, efficacy and safety in rodent models of exudative AMD. Two vision laboratories recently showed that one of these natural products can inhibit laser-induced CNV and retinal neovascularization in different rodent models of retinal degeneration.
Dr. Polans has obtained support from WARF (the Wisconsin alumni Research Foundation) to evaluate the toxicity and pharmacokinetics of these drugs as a necessary step in obtaining FDA approval for their use in human trials. Of importance, these compounds may be useful not only for the treatment of neovascular diseases but for their prevention as well.