C L Schepens, MD/AAO Award
Award co-sponsored by Schepens International Society (SIS)
This award in the amount of $50,000 was created by RRF, Paul Kayser Fund, and SIS to recognize a vision scientist who has contributed new knowledge of the visual process of vitreoretinal diseases and/or has made special contributions to prevent and decrease blindness. The award is named in honor of Charles L. Schepens, MD, a pioneer in the field of ophthalmology who designed and developed many innovative ophthalmic instruments and surgical procedures.
This award and gold medal are presented each year at Retina Subspecialty Day at the meeting of the American Academy of Ophthalmology. The recipient is chosen by a special committee composed of a representative from each of the following: Retina Society, Macula Society, American Society of Retina Specialists, Club Jules Gonin and the Retina Research Foundation or Schepens International Society.
2017 Schepens Medalist

Frederick L. Ferris, III, MD
National Eye Institute
Bethesda, MD
To be awarded at American Academy of Ophthalmology (AAO) Annual Meeting
Retina Subspecialty Day
November 10, 2017
New Orleans, LA
Title of Charles L. Schepens, MD Lecture
Clinical Trials in Ophthalmology: Advances in Treating Diabetic Retinopathy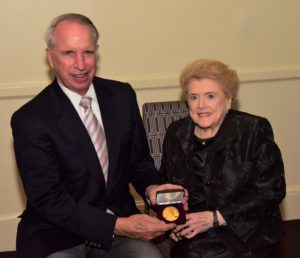 Education, Career Achievements, and Research Interests
Dr. Ferris started his career at the National Eye Institute (NEI), National Institutes of Health in 1973.  He has been the Director of the Division of Epidemiology and Clinical Applications at NEI since 1994 and was the Clinical Director at NEI from 2000 to 2017.
He received an A.B. degree from Princeton University in 1968 and completed his medical training and internship at Johns Hopkins in 1973.  Following this initial medical training, he joined the Public Health Service and started his 44-year career at NEI.
During this career, Dr. Ferris became a board-certified ophthalmologist when he completed his ophthalmology residency training at the Wilmer Institute, Johns Hopkins Hospital in 1978 and he is also a board-certified epidemiologist.  Through a joint appointment with NEI, he continued his association with Johns Hopkins as an associate professor of ophthalmology until 1995.
Dr. Ferris has participated in many clinical trials during his NEI career.  Notably, he was Project Officer of the Diabetic Retinopathy Study, co-chairman of the Early Treatment Diabetic Study and chairman of the Age-Related Eye Disease Study.  He has published 295 manuscripts in peer review journals and is currently actively involved in AREDS2, CATT, DRCR.net studies and multiple intramural clinical studies at NEI as well as being a senior editor of JAMA-Ophthalmology.
Dr. Ferris has been President of ARVO in 2006 and has received numerous honors, including a U.S. Public Health Service Commendation Medal, multiple awards from the Macula and Retina Society, the Jackson Memorial Lecturer, Alcon Research Institute Award, the Helen Keller Prize for Vision Research, ARVO Gold Fellow and Fellow of the Society for Clinical Trials, as well as recently being named a Johns Hopkins University Scholar.
2016 Schepens Medalist
 
Harry W. Flynn, Jr, M.D.
Bascom Palmer Eye Institute
Miami, FL
Awarded at American Academy of Ophthalmology (AAO) Annual Meeting
Retina Subspecialty Day
October 14, 2016
Chicago, IL
Title of Charles L. Schepens, MD Lecture
Management options for vitreomacular traction: Use an Individualized Approach
Education, Career Achievements, and Research Interests
Harry W. Flynn Jr., M.D is the J. Donald M. Gass, MD Distinguished Chair in Ophthalmology at the University of Miami School of Medicine. He is Professor of Ophthalmology at the Bascom Palmer Eye Institute and specializes in medical and surgical treatment of diseases of the retina and vitreous. He received a Bachelor of Science Degree at Wake Forest University in 1967 and his Doctor of Medicine Degree at the University of Virginia (UVA), School of Medicine in 1971. After an internship at the California Pacific Medical Center (CPMC) in San Francisco, he completed his ophthalmology residency at UVA.  His retinal fellowship was also at CPMC and then he served 2 years of active duty in the United States Army at the Brook Army Medical Center in San Antonio (1976-1978).
Dr. Flynn has been author or co-author of more than 500 publications as well as 88 book chapters. He has edited or co-edited four books including Diabetes and Ocular Diseases: Past, Current, and Future Therapies and Vitreoretinal Disease: The Essentials. Dr. Flynn had held numerous administrative positions including President: The Vitreous Society (1992-1993), President: The Miami Ophthalmological Society (1999) and President: The Retina Society (2002-2003). Dr. Flynn has served as Senior Editor for Section 12 (Retina) of the Basic and Clinical Science Course for the American Academy of Ophthalmology. He has also served as Co-Director of the Retina Subspecialty Day for the American Academy of Ophthalmology. He on the Editorial Board of numerous journals including the American Journal of Ophthalmology, RETINA, OSLI: Retina, and Evidence Based Ophthalmology. He has served on the Data and Safety Monitoring Committees for DRCR Network, SCORE Study, Regeneron VIEW 1 and VIEW 2 Studies and Neurotech Mac Tel Study. He received the AAO Life Achievement Honor Award in 2008. Dr. Flynn in 2011 received the Shaler Richardson, M.D. "Service to Medicine Award" from the Florida Society of Ophthalmology. He received the Hermann Wacker Award from the Club Jules Gonin in 2012. He was voted "Professor of the Year" by the Bascom Palmer Eye Institute Residents 2012. He has delivered 28 named lectures including the "J. Donald M. Gass Lecture" at the Retina Society in 2012. In 2014, he received the "Honorary Alumnus" recognition from AOA of UVA School of Medicine.
Dr. Flynn has been married to his wife Dr. Donna Flynn for 42 years. They have two children, Mollie and Patrick, and two grandchildren, Parker and Lily.

Gold Medal of Charles L Schepens, MD/AAO Award
.
Previous C L Schepens, MD/AAO Award Recipients
2016    Harry W. Flynn, Jr., MD
2015    Mark S. Blumenkranz, MD
2014    Jerry A. Shields, MD
2013    Lawrence A. Yannuzzi, MD
2012    Alan C. Bird, MD
2011    Stanley Chang, MD
2010    William Tasman, MD
2009    Thomas Aaberg, MD
2008    Harvey Lincoff, MD