Pan-American: Paul Kayser/RRF Global Award
Retina Research Foundation and Pan-American Association of Ophthalmology (PAAO) are pleased to announce the new Paul Kayser/RRF Global Award. The award will recognize outstanding achievement in visual science with preference given in the specialized field of research on the retina and vitreous.
The purpose of the award is to identify and recognize a vision science professional whose work has made a significant new contribution to knowledge about improving vision and prevention of blindness. RRF established this award in memory of Paul Kayser and to honor his interest in international solutions to the prevention of blindness.
One award will be given every two years in the amount of $50,000 in conjunction with the biennial Pan-American Congresses.
2017 Paul Kayser/RRF Global Award
Jennifer Kang-Mieler, PhD
Illinois Institute of Technology
Chicago, IL
Title:  A novel microsphere-hydrogel ocular drug delivery system for anti-vascular endothelial growth factors (anti-VEGFs)
Presented at the 33rd Pan-American Congress on August 9, 2017 in Lima, Peru.
2015 Paul Kayser/RRF Global Award

William Harbour, MD (Bascom Palmer Eye Institute)
Title:     The Harbour Laboratory: Two Decades of Discovery in Uveal Melanoma  
Presented at the 31st Pan-American Congress on August 7, 2015 in Bogotá, Colombia.
2013 Paul Kayser/RRF Global Award recipient chosen

Dr. Eduardo Buchele Rodrigues (Brazil)
Winning presentation      Lutein: A new dye for chromovitrectomy                                       Wednesday, August 7, 2013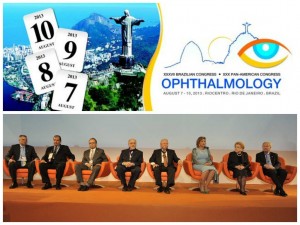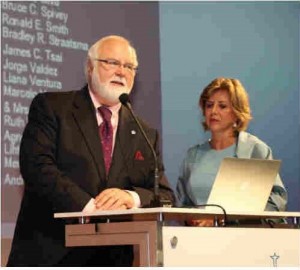 Opening Ceremony: Dr. William De La Peña and Ana Luisa Hofling-Lima introduce RRF Kayser Global Award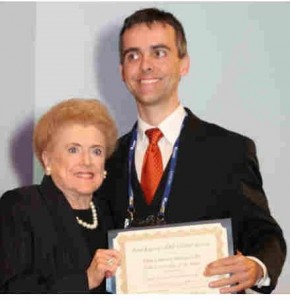 Dr. Alice McPherson with Dr. Eduardo B. Rodrigues, inaugural RRF Kayser Global Awardee
Dr. De La Peña is Chairman of the Board of PAOF (Pan-American Ophthalmology Foundation) and Dr. Hofling-Lima is President of PAAO