RRF Cox Macula Research Project
Administered by The Macula Society
Each year's recipient of the RRF Mills and Margaret Cox Macula Society Research Project is selected by the Macula Society's Research and Education Committee (REC), chaired by Richard Spaide, MD. Using a scoring system, each committee member reviews the applications in the areas of scientific content, originality, description of the methods, clinical relevance, clarity and overall impact. The results are then automatically tabulated, and the REC discusses the results.
The amount of the annual grant award is $30,000, funded by Retina Research Foundation from endowment earnings of the Cox gift. The research is limited to retinal vascular and macular diseases.
The grant application, along with eligibility and funding guidelines, is available on the Macula Society website (www.maculasociety.org). Macula Society members who have not been a past recipient of a Retina Research Foundation Award are eligible to apply.
2017 Grant Award Recipient: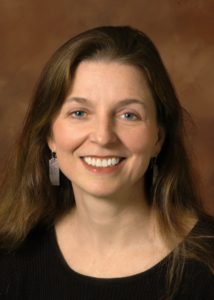 Mary Elizabeth Hartnett, M.D., FACS, FARVO
Moran Eye Center, University of Utah
Salt Lake City, UT
Dr. Hartnett's Research Project
"Novel Gene Therapy to Regulate Pathologic Neovascularization in AMD"
Dr. Hartnett is a Professor of Ophthalmology and Adjunct Professor of Pediatrics and Neurobiology and Anatomy at the University of Utah. She is a vitreoretinal surgeon and specialist for adults and pediatric patients at the John A. Moran Eye Center and Primary Children's Hospital in Salt Lake City, Utah. As Director of Pediatric retina, she developed the Pediatric Retina Center that provides care for infants and children in the Intermountain West.
She is a clinician scientist and in her NIH-funded laboratory, her lab has identified a mechanism for  pathologic signaling through VEGF in retinopathy of prematurity (ROP) that leads to both avascular retina and intravitreal neovascularization and  studies ways to regulate VEGF signaling in order to safely inhibit pathologic neovascularization in both ROP and age-related macular degeneration (AMD). She was in the team that first identified, characterized with scanning laser ophthalmoscopy and infrared light and developed hypotheses for the formation of retinal vascular anomalous complexes in AMD, now known RAP lesions.
She has over 200 peer-reviewed articles and chapters and is Editor in Chief for the first ever textbook, Pediatric Retina, now in its second edition.  She also provides service as an editorial board member for scientific and clinical journals, in a number of committees at ARVO, in having reviewed grants and chairing NIH study sections for 20 years, and in serving on the Knights Templar Eye Foundation Scientific Advisory Committee.
2016 Grant Award Recipient: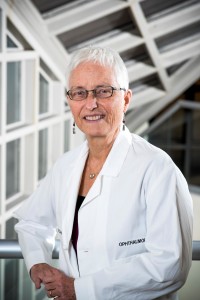 Christine A. Curcio, PhD
University of Alabama at Birmingham School of Medicine
Birmingham, AL
Dr. Curcio's Research Project
Visualizing organelles in human retinal pigment epithelium by 3-dimensional electron microscopy
Christine A. Curcio, PhD, is Professor and Director of the AMD Histopathology Lab at the Department of Ophthalmology, University of Alabama at Birmingham.
Dr Curcio focuses on aging and age-related macular degeneration (AMD), the third largest cause of vision loss worldwide. Interests include cell biology, lipoprotein biology, clinical image validation, neurodegeneration, epidemiology, and transcriptomics. She has capitalized on the Alabama Eye Bank, an industry leader in rapid tissue recovery, as a resource. Key findings include demonstrating that rod photoreceptors die before cones and discovering and characterizing lipoproteins of ocular origin that constitute the main pathway of drusen, AMD's pathognomonic lesions. She contributed the first comprehensive histological description of subretinal drusenoid deposit, a previously unrecognized layer of AMD pathology. Recently her lab with clinical collaborators validated optical coherence tomography and quantitative fundus autofluorescence, two imaging technologies essential to AMD diagnosis and management. She created an open access web-based digital microscope of AMD histopathology, www.projectmacula.
Dr. Curcio has authored >130 peer-reviewed articles and presented original data at vision meetings every year since 1985. She serves on the editorial boards of Investigative Ophthalmology and Visual Science and Progress in Retinal and Eye Research, previously served on the Board of Scientific Counselors of the National Eye Institute, and is currently a charter member of Disease and Pathology of Visual Study section. Her research has been funded by the National Eye Institute, Research to Prevent Blindness, International Retinal Research Foundation, Edward N. and Della L. Thome Memorial Foundation Awards Program, Beckman Initiative for Macular Research, Macula Vision Research Foundation, and the Macula Foundation.
Dr. Curcio obtained an Sc.B. in Biology from Brown University and attended graduate school at the University of Wisconsin-Madison. She received a PhD in Neurobiology and Anatomy from the University of Rochester in 1981 under the supervision of Paul Coleman, PhD. After post-doctoral work at the Boston University School of Medicine with James Hinds, PhD, she spent 6 year as research faculty at the University of Washington, where she began retina research in the laboratory of Anita Hendrickson, PhD, and published digital maps of human retinal neurons that are among of the most widely cited in vision. In 1990, Dr. Curcio joined the Department of Ophthalmology at University of Alabama School of Medicine. She has served as the Scientific Director and Director of Global Sight Network at the Alabama Eye Bank.
Honors include the University of Washington, School of Medicine, Science in Medicine – New Investigator (1988), the Roger H. Johnson Prize in Macular Degeneration Research from University of Washington (2002); Association for Research in Vision and Ophthalmology Silver Fellow (2009) and Gold Fellow (2010), Prix Soubrane de la Recherche en Ophtalmologie (2011), and the Ludwig Von Sallmann Prize (2014) for lifetime contributions to vision research.
2015 Grant Award Recipient:

Robyn Guymer, MD
University of Melbourne Centre for Eye Research Australia
Melbourne, Australia
Dr. Guymer's Research Project
The role of reduced phagocytosis in the pathogenesis of AMD  
With age-related macular degeneration (AMD) as the leading cause of severe irreversible vision loss in our community, ongoing research is a high priority. Prof Guymer is Australia's only academic ophthalmologist to focus exclusively on AMD and has gained distinction in ophthalmology internationally. She seeks to understand the basic pathological mechanism of disease and trials prophylactic treatment for early disease.
Prof Guymer's research portfolio has translation as its major focus. Her research exemplifies the interdependence of hospitals/universities/research institutions, ensuring rapid translation of discoveries into practice. Partnering with an Australian biotech Prof Guymer leads a world-first randomised controlled trial of nanosecond laser intervention in AMD, which if successful will revolutionise prophylactic treatment. Prof Guymer has researched laboratory-based retinal functional tests to take them into the clinic. Her research into genetic and lifestyle risk factors, through the development of functional outcome markers and imaging algorithms help advance our understanding of AMD. Prof Guymer has worked in multi discipline teams at the interface of clinical medicine and biomedical engineering with her involvement in Bionic Vision Australia.
Recent Previous RRF Cox Macula Research Grant Recipients
2016   Christine A. Curcio, PhD
2015    Robyn Guymer, MD
2014    Demetrios G. Vavvas, MD, PhD
2013    Kang Zhang, MD, PhD
2012    Stephen Tsang, MD, PhD and Stephen Jae Kim, MD
2011    J. William Harbour, MD
2010    Rajendra Apte, MD, PhD
2009    Lloyd Paul Aiello, MD