RRF Pyron Award
Presented by American Society of Retina Specialists (ASRS)
The RRF Pyron Award was created by RRF to recognize outstanding vision scientists whose work contributes to knowledge about vitreoretinal disease. Funding for this Award is provided in the amount of $30,000 by Retina Research Foundation. This award was made possible by an estate gift to RRF from Gertrude D. Pyron of San Antonio, Texas. She was an imminent geologist who admired Dr. Alice McPherson's leadership in vision science. Prior to 2000, the Pyron Award had been named the W. H. Helmerich III Award in honor of his service to the community.
2017 Award Recipient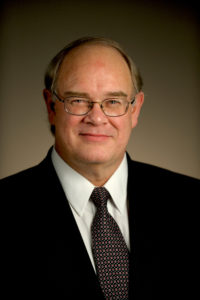 Paul A. Sieving, MD, PhD
Director, National Eye Institute
National Institutes of Health
Bethesda, Maryland   USA
Award Presented at the ASRS Annual Meeting
August 13, 2017
Boston, MA
Title of Lecture
Considerations of Gene Therapy for Retinal Dystrophies

Dr. Sieving is Director of the National Eye Institute, National Institutes of Health, since 2001.   He is known internationally for studies of human retinal neurodegenerative diseases, termed retinitis pigmentosa.  After graduate work in nuclear physics at Yale University, and a year at Yale Law School, he received his MD (1978) and PhD (1981) degrees from the University of Illinois.  He was an ophthalmology resident under Morton F. Goldberg, MD, at the University of Illinois Eye and Ear Infirmary, and he studied retinal physiology as a post-doctoral fellow with Roy H. Steinberg MD, PhD (1982-84), at UCSF. He was a clinical fellow in inherited retinal degenerative diseases with Eliot L. Berson, MD, at Harvard (1984-85).  Dr. Sieving was on the faculty of the University of Michigan (1985-2001) and held the Paul R. Lichter Chair in Ophthalmic Genetics.  He founded the Center for Hereditary Retinal and Macular Degenerations and established the first CLIA certified Ophthalmic Molecular Diagnostic Laboratory for hereditary retinal degenerative disease in United States.
As Director of the National Eye Institute, he oversees a $730M budget that supports some 1800 vision research scientists and clinicians at 245 institutions in the USA and abroad.  He originated the "NEI Audacious Goals Initiative," a 15 year effort in regenerative medicine to replace photoreceptors and retinal ganglion cells lost from disease.  He continues clinical and research engagement as a tenured Senior Investigator in the NIH Intramural Research Program.  He has published some 260 peer reviewed papers in ocular genetics and the pathophysiology of retinal neurodegenerative diseases.
Dr. Sieving identified a novel mechanism to protect photoreceptors by modulating the retinoid cycle in the eye using 13-cis retinoic acid (isotretinoin) (PNAS 2001), which has led to several therapy efforts for Stargardt macular degeneration.  He conducted the first human clinical trial with CNTF neurotrophic factor to rescue rod and cone photoreceptors from slowly progressive death from RP (PNAS 2006).
Dr. Sieving has worked for many years on X-linked retinoschisis. He created a transgenic XLRS mouse model (IOVS 2004) and demonstrated that XLRS is a synaptic disease with direct involvement of the rod-to-bipolar synapse (JCI 2015).   He used gene therapy to deliver a normal RS1 gene into eyes of XLRS mice, and this reversed the synaptic pathology and closes the retinal schisis cavities.   These pre-clinical studies culminated in his successful FDA submission for an Investigational New Drug Application to conduct a human RS1 gene therapy trial for human XLRS subjects, which is underway at the NEI.
Dr. Sieving is a jury member for the €1 million annual 'Champalimaud Vision Award' (Lisbon, Portugal), and the Guild/Lighthouse annual 'Bressler Vision Award' (2003-2015).  Dr. Sieving holds elected membership in a number of organizations, including the American Ophthalmological Society (1993) and the Academia Ophthalmologica Internationalis (2004).  He has received a number of awards, including the Research to Prevent Blindness Senior Scientific Investigator Award (1998); the Alcon Research Award (2000); Honorary Doctor of Science, Valparaiso University (2003); the Pisart Vision Award (NY Lighthouse International, 2005); and the SOI Honorary Award of the Italian Ophthalmological Society (2016).  Dr. Sieving is an elected member of the National Academy of Medicine  USA (2006) and the German National Academy of Sciences (2013).
2016 Award Recipient

Donald J. D'Amico, MD
The John Milton McLean Professor and Chairman
Weill Cornell Medicine, Ophthalmology
New York, NY
Award Presented at the ASRS Annual Meeting
August 10, 2016
San Francisco, CA
Title of Lecture
Permanent Keratoprosthesis and Complex Ocular Reconstruction: New Opportunities and Challenges for the Vitreoretinal Surgeon
Donald J. D'Amico, MD, Professor and Chairman of Ophthalmology at Weill Cornell Medical College and Ophthalmologist-in-Chief at New York Presbyterian, is an internationally recognized leader in the field of vitreoretinal surgery. He assumed the Chair at Weill Cornell in 2006 after his longstanding positions at Harvard Medical School as Professor of Ophthalmology, and as Associate Chief of Ophthalmology and Director of the Diabetic Unit at the Massachusetts Eye and Ear Infirmary.
A graduate of the Massachusetts Institute of Technology and the University of Illinois College of Medicine, he completed his residency at the Massachusetts Eye and Ear Infirmary. He completed his fellowship in vitreoretinal diseases at the University of Miami, Bascom Palmer Eye Institute, followed by selection as Chief Resident in Ophthalmology at the Massachusetts Eye and Ear Infirmary prior to joining the Harvard faculty.
Dr. D'Amico has published over 200 articles on vitreoretinal diseases and has co-edited two books covering comprehensive retinal themes. He has participated as a principal investigator or co-investigator in many clinical trials and laboratory investigations. His major interests include: vitreoretinal surgery; diabetic retinopathy; experimental lasers and other technologies for the surgical treatment of vitreoretinal disorders such as retinal detachment; macular degeneration; and endophthalmitis and intravitreal drug therapy. As attending physician specializing in the care of patients with vitreoretinal disorders at the Weill Cornell Department of Ophthalmology, Dr. D'Amico also provides direct instruction of medical students, ophthalmology residents, and retina fellows. In his role as a teacher, he twice received the Teacher of the Year Award given by the residents of the Massachusetts Eye and Ear Infirmary.
Dr. D'Amico is a distinguished national and international lecturer and is the recipient of many honors, including the Lifetime Achievement Award from the American Academy of Ophthalmology. He serves on the board of four major journals, and is highly active in professional societies. He is a Past President of the Retina Society, and is the immediate Past President of the prestigious international retinal society Club Jules Gonin.
http://www.asrs.org/annual-meeting/program-info/gertrude-d-pyron-award
Previous RRF Pyron Award Recipients
2016    Donald J. D'Amico, MD
2015    Gary W. Abrams, MD
2014    Andrew P. Schachat, MD
2013    George A. Williams, MD
2012    Daniel F. Martin, MD
2011    Jean Bennett, MD, PhD and Albert Maguire, MD
2010    Julia Haller, MD
2009    C. Pat Wilkinson, MD
2008    Susan Bressler, MD,and Neil Bressler, MD
2007    Carmen Puliafito, MD
2006    Brooks McCuen, MD
2005    Mark Blumenkranz, MD
2004    Morton F. Goldberg, MD
2003    Lloyd Aiello, MD
2002    Michael Trese, MD
2001    Yaseo Tano, MD
2000    Gholan Peyman, MD
Helmerich Award for Outstanding Achievement in Retina Research
1999    Harry W. Flynn, MD
1998    Stanley Chang, MD
1997    Thomas M. Aaberg, MD
1996    Robert Watzke, MD
1995    George F. Hilton, MD
1992    Christina Enroth-Cugell, MD
1991    Albert Aguayo, FRSC
1990    Seymour Benzer, MD
1989    Torsten N. Wiesel, MD
1988    Alan L. Hodgkin, FRSC