Gillingham Fellowships
Established in 1992 and funded by Retina Research Foundation through a gift from Mr. W. J. Gillingham, this program is administered for RRF by the Pan-American Association of Ophthalmology (PAAO). Selection is by the PAAO Fellowship Committee, with the final selection by the PAAO Executive Board at the academy meeting of the year preceding the fellowship. Candidates are selected based on outstanding potential for research careers and commitment to teaching in an accredited medical school in their home country.
Two six-month fellowships, providing stipends of $10,000 each, are awarded each year to Latin American ophthalmologists for training at leading institutions in the U.S. and Canada.
2017 Gillingham Fellows
Marcela A. Lonngi
, MD (from

Bogotá

, Colombia)
to Jules Stein Eye Institute, Los Angeles, CA
Training in Pediatric Ophthalmology and Strabismus with: Joseph Demer, MD, PhD
Fellowship dates: July 2016 to July 2017
Andrea Elizabeth Arriola-
López

, MD (from Guatemala City, Guatemala)

to Bascom Palmer Eye Institute, Miami, FL

Training in Uveitis with: Thomas Albini, MD and Eduardo Alfonso, MD

Fellowship dates: March 2017 to September 2017
2016 Gillingham Fellows
João Rafael de Oliveira Dias, MD (from Brazil)

to Bascom Palmer Eye Institute (J-1 Research Scholar)
Miami, FL
Training in Retina with: Philip Rosenfeld, MD
March 14, 2016 – March 13, 2017
Excerpt from Gillingham Fellowship Report
My fellowship included clinical and imaging research in retinal diseases related to exudation, degeneration, and angiogenesis, especially exudative and non-exudative age-related macular degeneration, idiopathic macular telangiectasia, central serous retinopathy, and diabetic retinopathy. My chief research project focused on the analysis of advanced retinal imaging, including optical coherence tomography (OCT) angiography, in retinal diseases.
Throughout the past year, I had the opportunity to learn and exchange several skills. With resilience and extreme commitment to my assignments, I overcame the obstacles and accomplished all tasks in due time. By working with Dr. Rosenfeld and the research team that included engineers, medical students, fellows, PhD students, and statistician, I learned techniques and methods to facilitate research in Ophthalmology and developed a critical sense regarding research, manuscript writing, and clinical knowledge. I also had the opportunity to participate in many academic activities, including grand rounds, lectures, congresses, as well as Ophthalmology clinics and the operating room.
Felipe A. Valenzuela, MD (from Chile)
to Bascom Palmer Eye Institute
Miami, FL
Training in Cornea with: Victor L. Perez, MD
December 2015 – December 2016
2015 Gillingham Fellows
Sergio Groman Lupa, MD (from Mexico)
to University of Colorado, Dept. of Ophthalmology
Aurora, CO
Retina: Naresh Mandava, MD
August 1, 2014 – July 31, 2015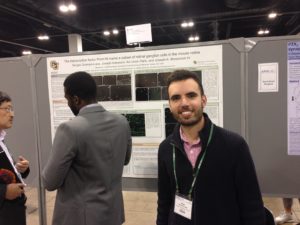 Sergio Groman Lupa at ARVO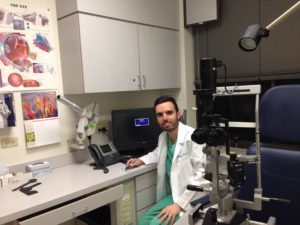 at the clinic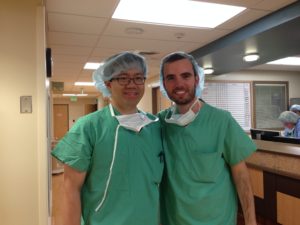 at the OR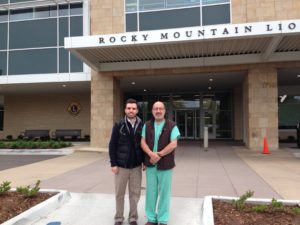 Sergio Groman Lupa with Dr. Hugo Quiroz
Excerpt from Gillingham Fellowship Report
During my fellowship I was involved in direct evaluation and management of patients with vitreoretinal diseases under the supervision of Dr. Hugo Quiroz-Mercado at Denver Health Medical Center, which was a very enrichment experience. I was able to participate in retinal surgeries assisting Dr. Quiroz and other Retina fellows allowing me to learn different surgical techniques. I performed clinical research using widefield OCT and as a research coordinator for the Diabetic Retinopathy Clinical Research Network. There were several academic activities that I attended at the Rocky Mountain Lions Eye Institute including grand rounds, lectures for ophthalmology residents, retina journal clubs and retina surgery meetings. In the basic research lab I participated in several projects under the excellent guidance of Jeffrey Olson, MD, Joseph Brzazinski, PhD, and Marc Petrash, PhD, that included basic science, retinal surgery lab and epidemiologic research. I learned different techniques and methods for research in ophthalmology. During this time I also had the opportunity to meet and interact with brilliant people, all from whom I learned a lot: Naresh Mandava, MD, Scott Oliver, MD, Marc Mathias, MD, Frank Siringo, MD, OD, and Richard Hwant, MD, PhD. This fellowship has been an extraordinary experience that will allow me to continue my academic endeavors and contribute to medicine and ophthalmology in Mexico.
Claudia
Inés

Osorio Moreno, MD (from Venezuela)

to Wilmer Eye Institute, Johns Hopkins Hospital

Baltimore, MD

Ocular Immunology: Jennifer Thorne, MD, PhD

January 2015 – December 2015
2014 Gillingham Fellows
Cristhian Urzua Salinas (from Chile)
to University of California San Diego, Shiley Eye Center
La Jolla, CA
Retina: William R. Freeman, MD
Natalia Camacho Espinosa (from Colombia)
to National Institutes of Health, National Eye Institute
Bethesda, MD
Clinical Immunology: Robert B. Nussenblatt, MD
2013 Gillingham Fellows
Carlos Quesada Ruiz, MD
from Mexico
to McGill University Henry C. Witelson Ocular Pathology Lab
Montreal, Quebec
Pathology: Bruno F. Fernandez, MD
Johanna Matilde Gonzalez Rodriguez, MD
from Mexico
to Toronto Western Hospital
Toronto, Canada
Glaucoma: Graham Trope, MD
2012 Gillingham Fellows
 
Tammy Osaki, MD
from São Paulo, Brazil
to Harvard Medical School, Massachusetts Eye and Ear Infirmary
Boston, MA
Oculoplastic and Orbit: Aaron M. Fay, MD, FACS

Daniel Lavinsky, MD
from São Paulo, Brazil
to Stanford University
Stanford, CA
Retina: Daniel Palanker, PhD and Mark Blumenkranz, MD
2011 Gillingham Fellows

Caio Vinícius Saito Regatieri, MD
from São Paulo, Brazil
to Harvard Medical School, Schepens Eye Research Institute
Boston, MA
Retina (Retina Stem Cell): Michael Young, PhD
(Accepted: May 2010 – November 2011)

Arturo Ramírez-Miranda, MD
from Mexico City, Mexico
to Jules Stein Eye Institute
University of California at Los Angeles
Los Angeles, CA
Cornea, External Disease & Refractive Surgery: Anthony Aldave, MD
(Accepted: July 1, 2010 – June 20, 2011)
Excerpt from report (Jules Stein Eye Institute UCLA):
Dear Dr. McPherson,   My fellowship included clinical, basic and didactic aspects of training. I had the opportunity to work on several projects concerning corneal pathology and epidemiology, refractive surgery screening methods, new procedures for corneal transplantation and keratoprosthesis.   In the Corneal Genetics and Corneal Cellular biology laboratories I did genetic sequencing of corneal inherited diseases, microarray of expressed genes on the ocular surface and immunohistochemistry of the proteins expressed in the corneal and conjunctival epithelium.   My chief research project was to develop an immunological marker, specific for conjunctiva epithelium, in order to establish a diagnostic tool for early stage limbal stem cell deficiency. I harvested cells from corneoscleral rims using impression cytology and stained them with specific antibodies for epithelial markers.   For me the most important part of my training was the guidance of my mentors and the fact that I will be able to transmit the knowledge and continue my research endeavors in my country.   Thank you again for your support.   Sincerely, Arturo Ramirez-Miranda, MD