RRF Events
Spring Luncheon 2017
"Texas Medical Center: What's New and What's Coming?"
RRF LECTURESHIP Honorary Speaker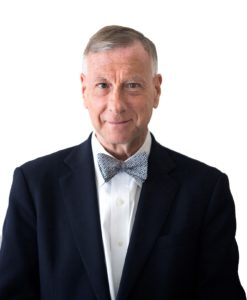 Arthur Garson, Jr. MD "Tim" is the Director of the Health Policy Institute of the Texas Medical Center, home to 59 health care institutions in Houston. The Institute develops collaborative policy solutions to improve the health of those in Houston and Texas, and to make those solutions applicable to the rest of the U.S. and beyond.
Dr. Garson's lecture focused on the Texas Medical Center's efforts to stimulate new research and new collaborations in medicine.
Spring Luncheon 2015
"Innovations in Academic Medicine"
RRF LECTURESHIP Honorary Speaker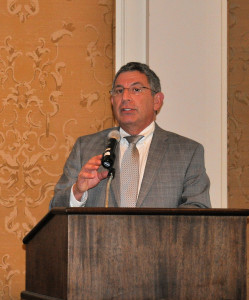 Dr. Paul Klotman, President, CEO, and Executive Dean of Baylor College of Medicine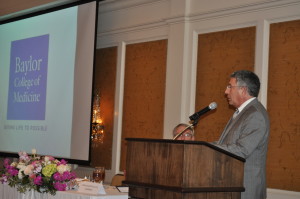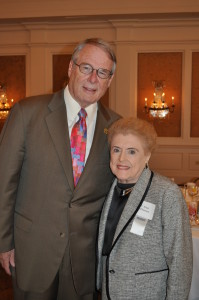 Dr. Eggleston and Dr. McPherson
Paul Klotman, MD, is President, CEO, and Executive Dean of Baylor College of Medicine. Dr. Klotman's research has been a blend of both basic and clinical research in molecular virology and AIDS pathogenesis. In addition to his laboratory efforts, Dr. Klotman has been an active clinician, teacher, and mentor.
Dr. Klotman's lecture focused on the four missions of Baylor College of Medicine: clinical, research, education, and community.
Spring Luncheon 2013
"Understanding and Reversing Aging"
RRF LECTURESHIP Honorary Speaker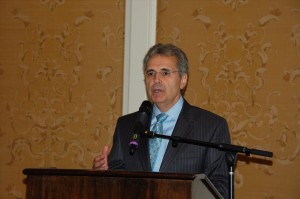 Ronald A. DePinho, M.D., President UT MD Anderson Cancer Center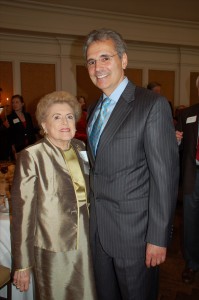 Dr. Alice McPherson and Dr. Ronald DePinho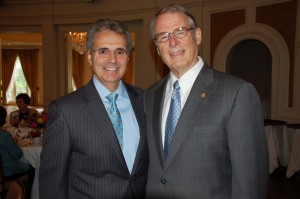 Dr. Ronald DePinho and Dr. Frank Eggleston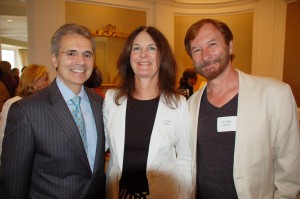 Dr. Ronald DePinho with Dr. Kathleen Mahon and Dr. Milan Jamrich
Ronald A. DePinho, M.D., is President of The University of Texas MD Anderson Cancer Center in Houston. His research program has focused on the molecular underpinnings of cancer, aging and degenerative disorders and the translation of such knowledge into clinical advances.
Dr. DePinho's lecture focused on the importance of research in solving the puzzles of aging and in identifying which factors influence the aging process.
Fall Luncheon 2011
"Tomorrow's Treatments from Today's Research"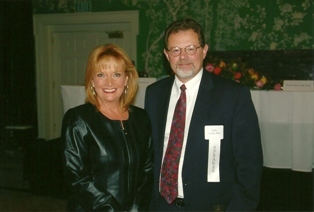 Shara Fryer and Dr. Curtis Brandt
The Scientific Program was moderated by RRF Board Member Shara Fryer, a thirty-year veteran journalist and television news anchor. Her career path began in Austin, then to San Antonio and on to Houston, Texas, where she became the preeminent and longest-running "prime time" anchorwoman in Houston television history. In her 27 years at Disney-owned ABC 13, the newscasts she anchored were number one in their time slots; but Shara earned her many awards and journalist credentials for stepping outside the anchor desk, from Jerusalem to Rome to London and across the U.S., covering top stories of the day, political campaigns,  special events, and getting the hard-to-get interviews for her popular newsmaker profiles.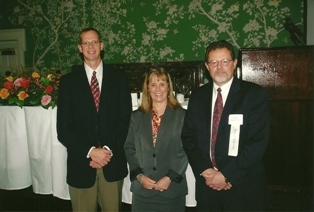 Drs. David Gamm, Nansi Colley, and Curtis Brandt
Nansi Jo Colley, PhD – 2011 RRF Grant Recipient
Department of Ophthalmology & Visual Sciences
Department of Genetics
UW Eye Research Institute
School of Medicine and Public Health
University of Wisconsin – Madison, WI
Retinal Degeneration Through the Eye of the Fly  
Dr. Colley's lab uses Drosophila melanogaster, the common fruit fly, as a molecular genetic model of human blinding diseases. Despite the millions of years of evolution that separate humans and flies, we have very similar visual systems. Therefore, the fruit fly is a powerful genetic model for gaining insights into genetically inherited retinal degeneration diseases such as age-related macular degeneration (AMD) and retinitis pigmentosa (RP). Dr. Colley is specifically focused on mechanisms of protein trafficking within photoreceptor cells in the retina. In humans, the photoreceptors are the rods (for night vision) and cones (for day vision). Defects in protein trafficking and targeting lead to cell death not only in blinding diseases but also in numerous neurodegenerative diseases in the brain such as Huntington's disease, Parkinson's disease and Alzheimer's disease. Dr. Colley's work is providing insights for therapeutic approaches to blinding diseases and other neurodegenerative diseases.
Curtis R. Brandt, PhD – RRF Helmerich Chair
Department of Ophthalmology and Visual Sciences
Department of Medical Microbiology and Immunology
UW Eye Research Institute
School of Medicine and Public Health
University of Wisconsin– Madison, WI
Gene Therapy for Retinal Degenerative Disease  
Gene therapy for retinal degenerative disease has great promise as evidenced by the recent success in treating Leber Congenical Amaurosis (LCA) in a dog model and the recently initiated clinical trial in humans. However, the use of viruses to deliver genes can activate host defensive systems that cause inflammation.  For example, Dr. Brandt and his collaborators have shown that primates develop a transient anterior and posterior uveitis when given Herpes, Lenti, and Adenovirus vectors. Dr. Brandt's laboratory is investigating what is triggering this response so they can block it – a necessary step if these vectors are to be useful for treating human disease.  His laboratory is focusing on the role of these innate systems and in particular on Toll-like Receptors.
David Gamm, MD, PhD – RRF Murfee Chair
Department of Ophthalmology & Visual Sciences
UW Eye Research Institute
School of Medicine and Public Health
University of Wisconsin – Madison, WI
The Role of Stem Cells in the Fight Against Retinal Degenerative Diseases  
Dr. Gamm's laboratory employs human stem cell technology to study how retinal cells are made and why they lose function and die in the face of disease. To do this, they obtain skin or blood cells from patients with specific retinal disorders, convert them to stem cells, and direct them to form retinal cells using a special technique they developed at the University of Wisconsin-Madison. They then use these "custom" retinal cells to improve our understanding of retinal diseases, screen for effective drugs, and devise sight-saving or sight-restoring treatment strategies.