Albert Chair
Daniel M. Albert Chair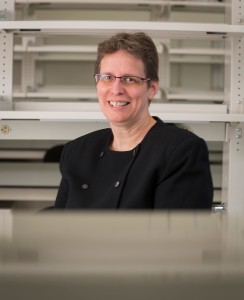 Christine M. Sorenson, PhD
Department of Pediatrics
University of Wisconsin
McPherson Eye Research Institute
Madison, WI
Dr. Sorenson's Research Project

Apoptosis in Retinal Vascular Development and Disease
Current Research Interests

Dr. Sorenson's research focus is delineating the role Bim and Bcl-2 protens play in modulating apoptosis during normal and aberrant retinal neovascularization. Her studies have established key roles for Bcl-2 family of proteins in retinal vascular development and neovascularization. She is also in the process of evaluating the impact of these proteins in retinal neovascularization through their vascular cell specific deletions in vivo. The knowledge gained from these studies will aid in development of new therapies that lack global systemic effects as now seen in anti-VEGF therapies. Dr. Sorenson also works closely with Drs. Sheibani, Polans, and Albert on development of novel treatments for exudative AMD.
Christine Sorenson (Pediatrics) and her lab conduct work in both retina and kidney, organs in which the modulation of apoptosis (naturally occurring programmed cell death) is a critical process during development and pathogenesis of various disease states. With specific focus on two proteins – Bcl-2, which prevents cell death, and Bim, which facilitates it – the Sorenson lab seeks to understand the roles played by each. In the retina, these proteins affect cell death during retinal blood vessel growth in newborns, as occurs in retinopathy of prematurity (ROP). They are also involved in the abnormal blood vessel growth that characterizes age-related macular degeneration (AMD). Both ROP and AMD are major causes of blindness in the United States, and the underlying mechanisms remain poorly understood. Sorenson works in close collaboration with MERI member Nader Sheibani to study how vascular development and function affect these diseases.
In the kidney, Dr. Sorenson has discovered that perhaps as a result of abnormal blood vessel growth, mice deficient in Bcl-2 develop renal hypoplasia/cystic dysplasia; the human parallel of this disorder is the second leading cause of kidney transplantation in children. Research in the Sorenson laboratory exploits their unique ability to study both retinal and kidney developmental changes and to isolate blood vessel cells from transgenic mice to study these organs in tandem. Sorenson's novel research has demonstrated that the presence of Bcl-2 and Bim proteins not only impact cell death, but also many other cell-specific functions. Alterations in these cellular functions may lead to abnormal retinal and kidney development and various disease states.
The knowledge gained from these studies will allow a better understanding of the regulatory mechanisms in these organs; understanding their alteration with various pathologies will aid the design of treatment modalities to intervene at earlier stages of these diseases, preventing their development and progression.