Helmerich Chair
Walter H. Helmerich Research Chair
Associate Director, McPherson Eye Research Institute
Kevin W Eliceiri, PhD
Biomedical Engineering
University of Wisconsin
Madison, WI
Helmerich Chair 2012 – 2017
Akihiro Ikeda, DVM, PhD
Medical Genetics
University of Wisconsin
Madison, WI
Dr. Ikeda's Research Project
Identification of Genetic Factors Affecting Aging of the Retina
Current Research Interests
Dr. Ikeda uses mouse models to study the genetic and molecular mechanisms of aging.  His laboratory studies a mouse mutant showing similar symptoms as observed in age-related macular degeneration (AMD) patients. He has identified the mutation in the gene (Tmem135) associated with mitochondria functions and confirmed that the mutation is indeed causing the AMD-like symptoms.
Another major project is to identify genes that determine the severity of aging symptoms in the retina including neurodegeneration, synaptic abnormality, and inflammation using two mouse strains, one of which shows retinal aging symptoms earlier than the other. He has found that a mutation in the bloom syndrome gene (Blm) gene involved in DNA damage repair is responsible for the early-onset of aging symptoms and that Blm may have a role in the mitochondrial function.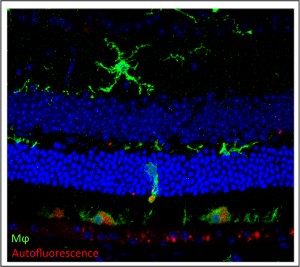 The retina of a mutant mouse with accelerated aging symptoms show AMD-like phenotypes such as accumulation of autofluorescence and inflammation.  
Specifically, Dr. Ikeda's laboratory aims to identify gene mutations that lead to early onset of aging phenotypes in the mouse retina.  His laboratory also aims to identify genes that cause the difference in the severity of age-dependent retinal abnormalities observed between two mouse inbred strains.  Dr. Ikeda hopes that identification of these genes will allow him to elucidate the molecular mechanisms causing the age-dependent retinal abnormalities, and therefore, enhance our understanding of age-dependent retinal diseases and aging of the retina.

Ikeda Lab