Gonin Medalist
Presented by the International Council of Ophthalmology (ICO) with
University of Lausanne and Swiss Ophthalmological Society

The Gonin Medal was instituted in 1937 in memory of Swiss-born Jules Gonin, MD, and it is the oldest and most prestigious medal in ophthalmology. Every four years, the ICO Board of Trustees (International Council of Ophthalmology) elects the gold medalist. The diploma of the medal is delivered during a special ceremony in Lausanne at the Jules Gonin Eye Hospital, and the gold medal is presented at the World Ophthalmology Congress. This award is in the amount of $50,000.
The International Council of Ophthalmology has elected Alice McPherson, MD, to receive the 2014 Gonin Medal.

Diploma of the Gonin Medal: Lausanne, Switzerland, February 13, 2014
Title: The Retina Specialty After Gonin: Personal Recollections and Contributions
Gonin Gold Medal awarded: at the World Ophthalmology Congress, Tokyo, Japan, April 2, 2014
View online the May 2014 RRF Newsletter: Special Edition/Dr. McPherson named 2014 Gonin Medalist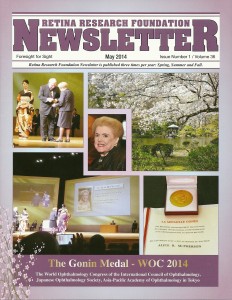 Education and Career Highlights

Dr. Alice McPherson is an accomplished teacher, scholar, leader and pioneer dedicated to the study and treatment of retinal diseases.
Dr. McPherson received her baccalaureate and medical degrees and took her ophthalmology residency at the University of Wisconsin. She completed a retina fellowship with Dr. Charles Schepens at the Massachusetts Eye and Ear Infirmary. Dr. McPherson is a professor of ophthalmology at Baylor College of Medicine specializing in macular degeneration and vitreoretinal diseases and surgery. She is a Fellow of both the American College of Surgeons and the International College of Surgeons.
Her scientific contributions to ophthalmology began with pioneering scleral buckling procedures, cryotherapy and xenon arc and laser photocoagulation in the treatment of retinal diseases. She was an early and vigorous advocate of photocoagulation in the treatment of diabetic retinopathy. This was initially a controversial position, later proven correct by the large, randomized prospective National Eye Institute Diabetic Retinopathy Study.
Retina Research Foundation

In 1969 she founded the Retina Research Foundation (RRF), one of the nation's leading eye research organizations, dedicated to promote understanding, prevention and treatment of retinal diseases. To accomplish this, in 1973 the RRF started to fund pilot research studies and in 1976 began collaborating with outstanding organizations to support a variety of programs in retina research around the world:
• Helped to support ongoing studies conducted by internationally recognized award recipients
• Established Research Chairs and Professorships at leading universities and institutions
• Initiated international fellowships that provided advanced subspecialty training to young clinician-scientists who return to their home countries following training
• Develop career advancement awards for young scientists.
The collaborating organizations beginning in 1973 until present are Baylor College of Medicine, the Retina Society, University of Wisconsin, McPherson Eye Research Institute, Association for Research in Vision and Ophthalmology, International Society for Eye Research, Schepens International Society, American Society of Retina Specialists, Pan-American Association of Ophthalmology, American Academy of Ophthalmology, the Macula Society, Club Jules Gonin, Swiss Ophthalmological Society, and International Council of Ophthalmology. Retina research sites have been Texas 11, national 52, international 30, Pan American 21.
Honors and Recognition

Dr. McPherson's extraordinary dedication and leadership has benefited many institutions and professional organizations. The following are some of the honors and recognition she has received in acknowledgement of her important contributions:
From the University of Wisconsin

University graduation commencement speaker and honorary degree awardee; renaming of the [McPherson] Eye Research Institute in her honor; founding member of the Advisory Board of the McPherson Eye Research Institute; McPherson House, a medical student learning community named in her honor; a McPherson Lectureship established in her honor; board member of the University of Wisconsin Foundation; Founding President of the University of Wisconsin Ophthalmology Alumni Association.
Harvard Medical School related recognition

Harvard Medical School Distinguished Alumni Professional Achievement Award; Trustee of the Schepens Eye Research Institute.
From the American Academy of Ophthalmology (AAO)

Vice President of Program Development, AAO Foundation; Second Vice President of the AAO; Lifetime Member, AAO Foundation Honorary Board of Trustees; AAO Circle of Vision at Gold Level; Inaugural Member, AAO Visionary Society at Gold Member level; Member, AAO Planned Giving Committee; AAO Honor Awards; AAO Editors' Choice Symposium Discussant.
From the Pan American Association of Ophthalmology (PAAO)

President; Benjamin Boyd Humanitarian Award; Guest of Honor, 2005 PAAO Congress, Santiago, Chile; Guest of Honor, 2013 PAAO Congress, Rio de Janeiro.
Other recognition from International Societies: European Society of Ophthalmology, Invited Lecturer 2009 Amsterdam Meeting; International College of Surgeons, Vice Regent in Texas.
Other honors

President, Retina Society; First Everett Viers Lecture, Scott and White Clinic; President, Houston Ophthalmological Society; Editorial Board, Archives of Ophthalmology.
Previous Gonin Medalists

2010 Alan C.Bird, MD
2006 Alfred Sommer, MD, MHS
2002 Gottfried Naumann, MD
1998 Robert Machemer, MD
1994 Harold L. Ridley
1990 Barrie R. Jones
1986 Akika Nakajima
1982 Alfred Edward Maumenee
1978 Norman Henry Ashton
1974 David G. Cogan
1970 Gerhard Meyer-Schwickerath
1966 Jules François
1962 Hans Goldmann
1958 Alan Woods
1954 Stewart Duke-Elder
1950 Hermenegilde Arruga
1945 Paul Haillart
1941 Alfred Vogt